The Karovas Milkshake are currently the best representatives of the Yekaterinburg rock scene in the Urals region. Before their next gig on Friday, June 7th at Mains d'Oeuvres venue near Paris, we met the frontman of the Russian combo, Albert Krupp.
Here in France, we know Yekaterinburg as a big industrial city, famous for its women's basketball team, 11 times champion of Russia and 5 times winner of the Euroleague on 5 occasions; the city is also known thanks to the great swimmer Aleksandr Popov and figure skater Yulia Lipnitskaya. But it also seems to be a city with a rock scene?
Here in Russia, Ekaterinburg is famous with its rock'n'roll scene. Primarily, due to Sverdlovsk rock club which hosted some well-known Russian new wave bands of the post-Sovietic era (e.g. Agatha Christie, Nautilus Pompilius). Nowadays cultural live is blooming and getting more and more diverse. There are lots of musicians of different styles. Besides that, Ekaterinburg is known for its constructivist architecture (that branched from German Bauhaus).
Is the rock culture of the city more important than in other major Russian cities (Moscow, St. Petersburg, Novosibirsk)?
I wouldn't say that the scene in Ekaterinburg very different from that of Moscow or St. Petersburg. It would be right to say that interesting groups can emerge anywhere. Not necessarily in the capital, but rather in a provincial town. To our mind, these bands are even more interesting.
Albert and Seva, you founded the group in 2007. Tell us how you met? How did the idea of founding this band come about?
We met in a train. A friend presented us to each other. When we wanted to start our band, the music scene was totally different. Very few places to play, playing your own songs was not in favour. Being students and big fans of beat, we occasionally went to see bands. Once, after a rather dull concert we saw in a bar, we suddenly knew what we wanted to sound like. Our goal was to play our music not to please the listener, but to awaken him. So you could say, we made the first garage band in the Urals in spite of it all.
Where does the name of the band come from? I've heard of an ancient legend… a cocktail called "The Karophas Mielkshag", a wonderful drink, now gone, that made everyone who drank it happy…
The name of the band references Alex's gang from 'A Clockwork Orange' by Anthony Burgess. Hence we emphasize that we are here to make some noise, experiment and enjoy. The ancient legend describes one of these experiments.
Some years ago, your music was a heterogeneous mix of rhythm'n Blues, Country, Surf and psychedelic, with also a strong garage-rock dimension. Today, it sounds rather garage-psyche with a 60's/70's sound. With reverberated vocal harmonies, farfisa and guitars. How would you define your sound? How did you get there?
And so it is ! We still keep playing and fooling around with styles. For instance, on our new album you can hear influences of country music, bossa nova, reggae, but all that is based on great love for garage beat, psyche and rhythm and blues. You never know where the road will take you next time.
What are your influences? We imagine that you listened to the Stones' "Their Satanic Majesties Request" (released in 1967), the Doors, 13th Floor Elevators…?
Yes, we really love these bands. But apart from that, we were influenced by a huge amount of other music – this is the New Orleans jazz, the Chicago blues, punk '77, a bunch of garage unknows, and also our friends from Moscow the Thunderbeats and the Crushers.
Albert, beyond the music of the 60s, are you equally passionate about all the arts of that era? I've read that your father Stanislaw, a professional artist himself, made you discover Art Nouveau (period 1890-1910 approx.)?
Yes, I am fascinated with the aesthetics and culture of the early twentieth century. In many ways this is due to my father, Stanislav Krupp, who is the only Russian artist, as far as I know, still working in this style. In the late 60s, artists began to use old techniques and images in their psychedelic posters. This is a strange mixture of psychedelia and art nouveau – it makes a fascinating impression, which I try to convey in my posters and album covers.
They are many themes explored by the various artists of Art Nouveau, but the nature and image of women are very present in the artistic production Art Nouveau. What are the themes of your songs? What do they tell?
Sure in rock and roll you can't go a long way without "baby" and "let's have some fun". But apart from that, being big fans of absurd English humor, we often write mirrored lyrics of little sence or nonsence. As our friend puts it, "It's up to you – understand it how you wish."
Albert, you create posters and album covers for the band. Would you define yourself more as a musician who paints or a painter who plays music?
Thank you for this question. I believe that a musician is, in some way, a painter. And a painter is, in some way, a musician. Why limit yourself by definitions?
Back to music : you released a 4-track EP «Low-Cow-Motion» in 2010 (on the Muscovite label Magnetone Records), singles («Locomotion» in 2011 and «Freak Out Factory» in 2012) and finally your first LP "In the Shade of the Purple Sun" in 2015. What changes do you see – musically and regarding the songwriting – over these 5 years? Or since the creation of the band?
Over these years, we certainly have become more solid as a band. We've learned to write better songs and keep our guitars in tune, hahah ! Now we are playing with a Farfisa appeared in our arsenal. Our new single and album is being prepared for release, where we will continue to drive you crazy!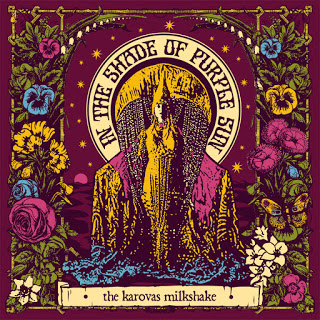 You have been touring a lot in Russia and other parts of Europe for these last years. Do you have any funny or amazing concert anecdotes to share with us (we are ready to hear everything!)?
We were playing in the town of Kirov, and just before the show, the powers went out. For half a hour it was dark and we played a beat on the drums and a mouth harp. It didn't spoil the evening and we had a good time. Until suddenly we discovered that we'd mixed up the time our train departed. And ran off in haste ! Touring is always an adventure.
How do you see the gig next 7th June in Paris?
We look forward to this show ! Going to play a big set, new songs flavoured with Farfisa sound. Also there's going to be a special limited edition of our new single. We think it's gonna be great! A tres bientot !
What can Lust4live.fr wish you for the future?
You can wish us to keep rockin'and rollin' with our boots flying high. And we wish you the same !
Alechinsky.